Justice for All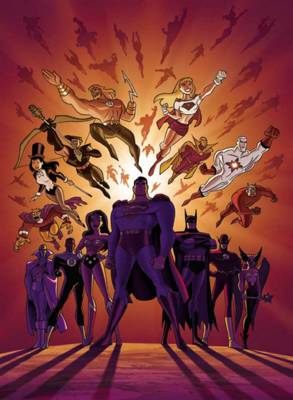 To say I'm at fan of Bruce Timm and Paul Dini's Bat Man the Animated Series is an understatement. I remember just starting community college, wondering what the heck I was going to do with my life. That's when I first laid eyes on the first season episode of Bat Man "P.O.V.". It blew my mind that American animation could be that fantastic in art and in drama. That's when I knew I had to find a way to get into the animation business.
Since then, I've diligently followed Bat Man the Animated Series, Super Man and Bat Man Beyond. One would think after 13 years of super hero action in the same style and universe things would get dull of repetitive.
Then a little thing called the Justice League came along….
I don't know if anyone noticed, but this year of Justice League Unlimited is easily the best American animation on TV. The story revolves around the post Hawk world attack and the military group Cadmus. It weaves new heroes (Captain Atom, Green Arrow, The Question, etc…) and the classics. They've broke the mold this season with a huge story arc with a big pay off for long term fans. The multiple episode storyline adds so much weight to each individual show.
Also, I've noticed a fairly new director this season named Joaquin De Santos who is absolutely tearing it up in the action department! "The Cat and the Canary" has some of the best combat I've seen since the "Over The Edge" episode of Bat Man Gotham Knights (the episode where Bat Girl dies). He also directed some incredible battles in "Divided we Fall".
Even beyond the big super hero bashing there are real touching quiet moments of characters masterly weaved by writer Dwayne McDuffie. Some of the interaction between Lois and Clark as well as Green Lantern and Hawk Girl are just so darn sincere.
I've heard rumors that Justice League Unlimited is being scrapped for Legion of Super Heroes. Judging from JLU's kick ass presence at the San Diego Comic-Con I doubt it. Personally, I hope they stick to these characters that they've honed so well over the years. Lets face it…. Kevin Conroy is freakin Bat Man… and the fans will never get enough!
Lets pray for a DVD box set that honors this show. Cheers to the crew on JLU! Keep kicking super hero ass!